Student Resources
African American Student Services
American Indian Student Services
Center For Financial Capability
ARC recognizes individuals with disabilities as an integral part of a diverse community and is committed to the provision of comprehensive resources to the University community (faculty, staff, and student) in order to create equitable, inclusive, and practical learning environments.
Website: https://arc.unm.edu
The AASS program at UNM provides culturally relevant programs designed to assist primarily African American students in making a confident transition and successful adjustment to the University of New Mexico.
Website: https://afro.unm.edu
AISS provides cultural and academic programming for American Indian students attending UNM in an effort to ensure their academic achievement and assist in the development of personal, cultural, and social success.
Website: https://aiss.unm.edu 
The mission of the CFC is to empower and educate students with the unbiased tools they need to achieve financial independence. Our mission is to help students learn more about how to better manage their finances. We help students through skill-building, education, and financial relief.
Website: https://cfc.unm.edu/index.html
CEP provides comprehensive student support services that assist students with their transition to higher education and attaining collegiate success. Programs focus on students who are first-generation, low income and come from rural areas.
Website: https://cep.unm.edu
El Centro provides tools for self-determination, personal responsibility and resiliency of Raza students at the University of New Mexico. El Centro supports the transformation of students through knowledge and skills, while challenging systems to achieve social justice. In engaging the community, El Centro continues the legacy of advocacy, holistic support and partnerships.
Website: https://elcentro.unm.edu 
The Graduate Resource Center fosters graduate student learning communities across the University of New Mexico through writing, statistics, and research support facilitated by peer consultations and workshops that help students develop strategies to be effective academics, researchers, and professionals.
Website: https://unmgrc.unm.edu
 The LGBTQ Resource Center strives to create a welcoming and inclusive atmosphere for all members of the University of New Mexico and surrounding community. As a safe zone environment, they stand up against homophobia and value the worth and dignity of all people. Through education, they aim to bring a heightened visibility of the LGBTQ* community on campus and to issues that affect LGBTQ* individuals. Through leadership development, they promote a more civically engaged campus community committed to equality and equal opportunity for all people.
Website: https://lgbtqrc.unm.edu
 The LoboRESPECT Advocacy Center provides a safe and welcoming environment and serves as a confidential/anonymous reporting location for students to receive support and advocacy for a number of areas. We serve the UNM community by providing resources and education in an effort to promote student success.
Website: https://loborespect.unm.edu/index.html
 The Veteran's Resource Center is dedicated to provide the highest quality and comprehensive support to student veterans in an atmosphere that provides commitment, respect, and academic excellence. They provide education, administrative services, and job advisement to UNM student veterans, their families, as well as outreach to military communities at large.
Website: https://vrc.unm.edu
 The Women's Resource Center promotes awareness and the advancement of women's rights to ensure equity regardless of gender identity, sex, race, ability status, age, sexual orientation, economic class, or religious affiliation. They seek to facilitate understanding and mutual respect among all campus and community members to achieve social justice, as well as foster a positive UNM environment. They provide the tools and resources necessary to enhance success within academic, personal, and professional aspects of students' lives.
Website: https://women.unm.edu
Welcome to LoboGuardian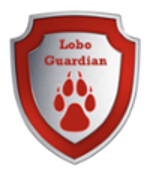 Welcome to LoboGuardian, a mobile app that increases user safety by creating a virtual safety network of friends and family.
With this app you can:
Set a Safety Timer and Status -- Designate friends, family, and others as personal "Guardians" and establish Safety Timer Sessions with your Guardians. During the timer session Guardians can check your status and location. If the timer is not deactivated before it expires, your Guardians will be notified and your phone's last location and status will be displayed.
Easy Emergency Communication -- Make a direct emergency call to the UNM Police Department in Albuquerque that automatically delivers your Smart911 profile to the police response team. You can also call 911.
Report a Tip -- Send a tip anonymously to the UNM Police Department in Albuquerque.  
Click the photo to access the LoboGaurdian website.